Director
Professor, UICB/SLIS
Biography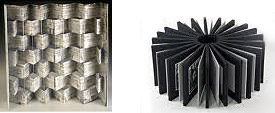 While in design school I discovered book making and moved to Penland School of Craft in North Carolina to study the craft of bookbinding as well as its sister arts, papermaking and printing. As a resident artist there I was able build my studio and begin to market my work. Years of living in a small cabin on 100 wooded acres in the Blue Ridge Mountains was an amazing immersion into making and the deep satisfaction that can come from making objects that move into people's lives and give them a sense of the hand: an object of beauty that engages with our daily lives, like the perfect mug that we reach for every morning because of the way it fits in the hand.
In 1997 I came to Iowa to enroll in the newly created Graduate Certificate Program at the UI Center for the Book. I was able to learn from several truly talented binders and conservators: Pam Spitzmueller, Gary Frost, and Larry Yerkes. I also enrolled in the School of Art and Art History in the Design area. I gained an MFA in Studio Art and a Graduate Certificate from the Center in 2001. I stayed on and have been teaching for the Center since 2001.
Making use of the book as an artistic medium is possible partly because of what we bring to the book, our collective connection with it. Since its inception we have imbued books and writing with a spiritual or magical aspect that goes beyond its physical or contextual properties. Books can act on us as an icon or reliquary does, evoking a spiritual reaction, a contemplative psychic space. My work is divided between the study of historical book binding structures and the creation of contemporary artist books. At first glance, the two areas may seem far apart from one another, but in practice each feeds the other. Gaining an understanding of the development of bookbinding back to the 2nd century has given me a deep and intensive understanding of how the book as a physical object functions as well as how that object has functioned in society. This background influences how I approach my artist book work. The most recent body of work makes use of old books, primarily reference books (such as dictionaries and encyclopedias) and botany books from the turn of the 20th century. I take these lovely and rich objects and reconfigure them into new forms that tell both the "old" story and a new one.