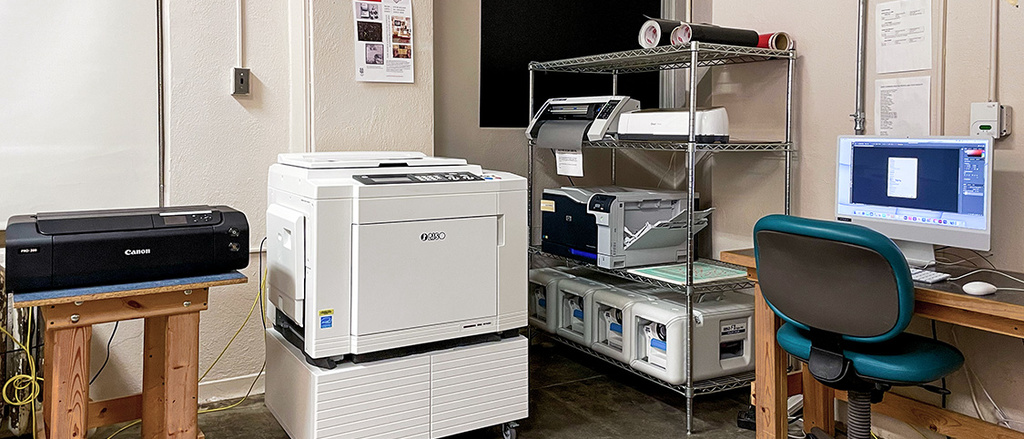 A digital workspace is located in North Hall, adjacent to the binding, papermaking, and printing classrooms. Dedicated to UICB graduate student use, the lab is outfitted with seven 21.5 inch iMac computers equipped with current versions of Adobe Creative Cloud designware. For the physical product, there are printers, scanners, cutting tools, and camera, consisting of an HP LaserJet 5200TN 11x17" printer, an HP Color LaserJet CP5225 11x17" color printer, and an Epson Stylus Pro 4900 Large-format color inkjet printer, an Epson V600 Photo scanner, an Epson 10000 XL 12x17" scanner, a Graphtec Craft Robo Pro cutting plotter, a Canon Powershot G15 camera, and a Canon EOS Rebel T3i DSLR camera.
The Center offers courses in digital bookwork, book design, and computer graphics for the art of the book. Check listings at MYUI(link is external) for course availabilities and offerings; enter "UICB" in the course subject field, then click on "Search." Some current offerings include:
Courses
Students plan, design, and produce a book using Adobe Creative Suite; page layout software, typography, page layout and design, book formatting, handling of image files, preparation of materials for print and other contemporary book media; history of book design, book design in contemporary publishing; visit to University of Iowa Libraries Special Collections.
Introduction to concepts, techniques, and technologies used to design and produce artists' books with personal computers and graphic design software.