Wednesday, December 8, 2010
Grolier Exhibition
Women's Studio Workshop founders and artists-in-residence will be present to host a tour of the exhibition and answer questions.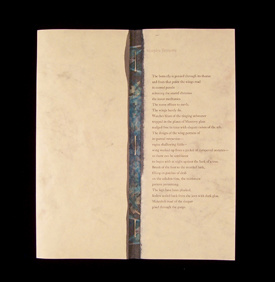 Hand, Voice & Vision: Artists' Books from Women's Studio Workshop, December 8th, 2010 - February 5th, 2011, at the Grolier Club, New York City, will display 40 book works from over 30 years of artists-in-residence at Women's Studio Workshop. Curated by Kathleen Walkup.
Since 1979 Women's Studio Workshop has offered artists the time, space, and technical assistance to create limited-editioned hand-printed artists' books.
Over 170 artists' books have been published at WSW since the program's inception, making WSW the largest publisher of hand-printed books in the United States. The exhibition will celebrate three facets that characterize WSW's program: the hand-made mark of the book-maker, the unique voices and viewpoints of a broad and diverse range of artists, and the visionary nature of artwork that forges new directions in the medium of book arts. Please join us for the exhibition and our scheduled events surrounding the show. If you can't make it to New York City, this exhibition will tour various cities 2011 - 2013, see the exhibition website for the full travel schedule.
An accompanying catalogue will be available for purchase. It contains essays by the exhibition curator, librarians, teachers, curators, and artists on the topic of artists' books and WSW's role in the field, as well as interviews with the four founders.
Artists in the Exhibition
Katherine Aoki, Tomie Arai, Susan Baker, Katie Baldwin, Carol Barton, Maureen Cummins, Deborah Frederick, Anne George, Sharon Gilbert, Amanda Kalinoski, Ann Kalmbach, Tatana Kellner, Susan Elizabeth King, Karen Kunc, Sara Langworthy, Barbara Leoff Burge, Dani Leventhal, Marisol Limon Martinez, Ann Lovett, Paula McCartney, Susan Mills, Judith Mohns, Louise Odes Neaderland, Heidi Neilson, Heather O'Hara, Claire Rau, Clarissa Sligh, Emily Speed, Edie Tsong, Abigail Uhteg, Erica Van Horn, Kate Van Houten, Ral Veroni, Anita Wetzel, & Zarina.
For more information please go here.